You want to make money on your blog, but aren't troubled by increasing traffic on your blog?
If so, try a rank tracking tool that can do great things for less.
It will make money on your blog within two months at the earliest.
"Why can you say that?"
Because I actually experienced it.
By the end of this article, you will definitely imagine a bright future.
RankTracker, the best cost performance tool
I'm introducing "RankTracker",  a SEO tool from "SEO PowerSuite"
It's more than just tracking your search rankings, as is the case with existing rank tracking tools.
The following features can help you grow your blog.
・Steal ranking keywords from competing sites
・Make your competitor's traffic articles invisible.
・Understand the difficulty of keywords that are easy to rank
With these features, you won't have to worry about blog posts or monetization anymore.
Let's take a concrete look at the amazing features that this "RankTracker" has.
RankTracker Function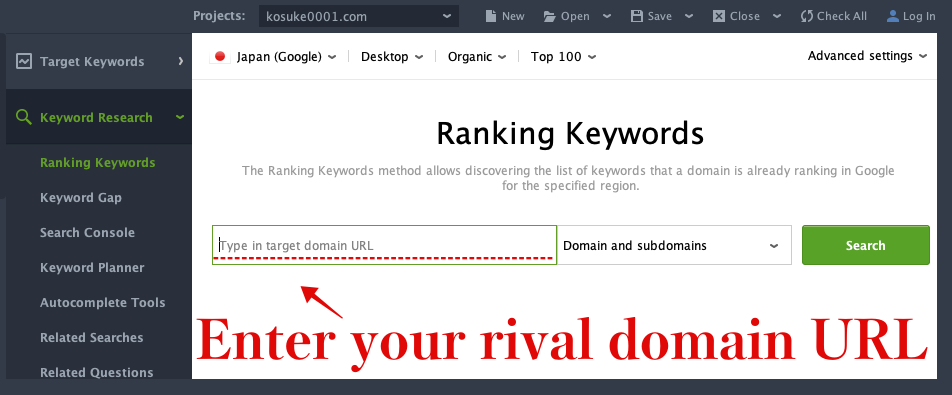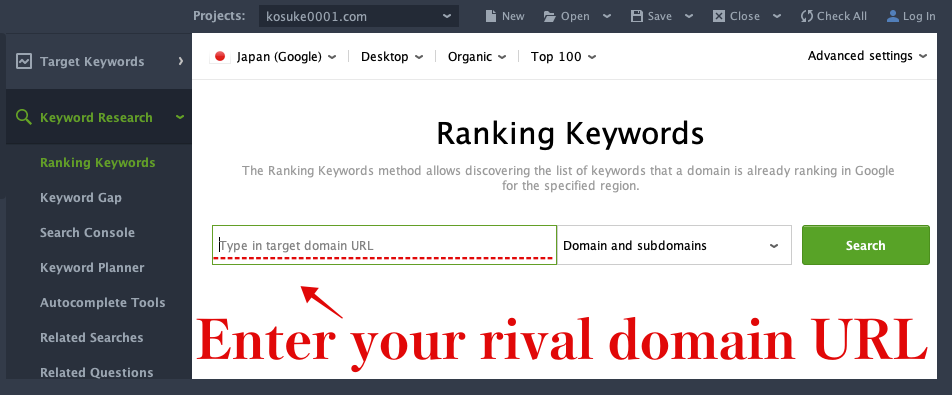 After launching the RankTracker tool, steal rival keywords using the "ranking keywords" feature.
Enter the domain URL of the site for which you want to get keywords in the box and click the "seach" button.
If you enter the domain URL of the blog of the famous web marketer "neil patel" you will get this result.
---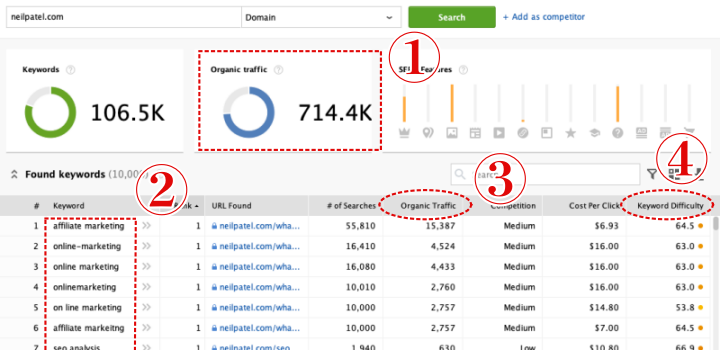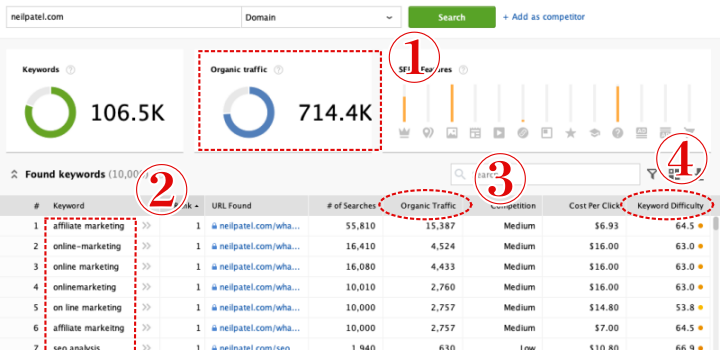 In this way, all the data of the input site becomes full view.
The data points to the following.
With this data, you can get out of the blogging blog post.
①

Total organic traffic
Represents the organic traffic generated by the site.
Sites that are generating huge traffic are powerful sites.
②

Ranked Keywords
You can see exactly which keywords your site actually ranks in.
From here, you can steal as many keywords as you want, so you no longer have to think about keywords.
The key to generating traffic on your site is to steal keywords in light of the difficulty of keywords here and ④.
③ Organic Traffic
It shows how much organic traffic you get from articles with that keyword alone.
④

Keywords Difficulty
This is the biggest point.
The lower the difficulty of the keyword, the easier it is for your articles to rank.
If your blog is a site that is still weakly created, it is important to aim for a keyword difficulty value of "15 or less".
If the articles you wrote are of high quality, you will be able to get ranked immediately.
\Try it now/
RankTracker is cheap and has high functionality
RankTracker can be used at an incredible price, even though it has some demon features.


※For personal bloggers, the professional version is sufficient.
This is the price of RankTracker. It's just $ 10 a month.
"Do you think it is expensive?"
Not at all. The next month I started using RankTracker, I made money.
And this time, we introduced the "Special" function, but there are many other useful functions.
"Do you still keep sending spam-like comments to others?"
"Do you mass-produce articles that do not rank even if you write them?"
Get your RankTracker as soon as possible and monetize your blog.
It can be purchased from the RankTracker official page here.
Good luck with your blog!